Our Mission
The mission of the Lewis & Clark Conservation District is to provide leadership in the conservation and wise use of soil, water, and related resources.
Involvement
Conservation Districts in Montana utilize locally-led and largely non-regulatory approaches to successfully address natural resource issues. CDs have a decades-long history of conserving our state's resources by helping local people match their needs to available technical and financial resources, thereby getting good conservation practices on the ground to the benefit of all Montanans.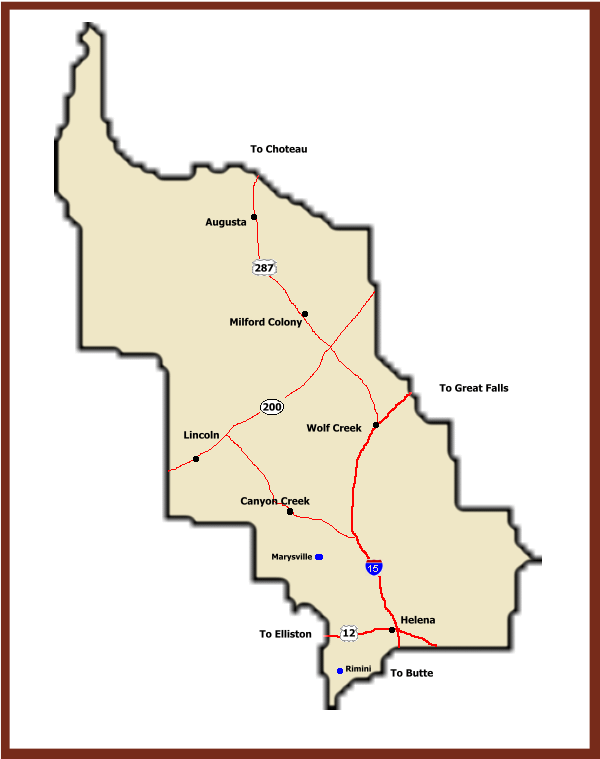 Location:
The Lewis & Clark Conservation District is located in Lewis & Clark County, Montana. Encompassing the southern portion of the East Front of the Rocky Mountains, forest in abundance and range and crop lands of the Montana plains, the District assists large and small acreage landowners with their management concerns.
Following is an interesting video that the National Association of Conservation Districts put together on the history and the future of CDs.
Board of Supervisors
The Lewis & Clark Conservation District has an elected Board of Supervisors. In 1997, the District formally divided into seven supervisor areas with one Supervisor from each area.
Can you find Lewis & Clark County?
The current Board of Supervisors consists of:
Chairman, Jeff Ryan of North Helena Valley; Vice Chair, Scott Blackman of the Craig area; Treasurer, Jeanette Nordahl of the Lincoln Area; members, Ron Ingersoll of the Wolf Creek/Dearborn River area, Stephen Granzow of East Helena Valley, Sarah Howe Cobb of the Augusta area and Stan Frasier of the south Helena Valley. Associate Supervisors (non-voting, appointed by the board) include Alan Rollo of Great Falls, David Martin of Helena, and Karl Christians of Helena Valley.
The Helena Field Office for the Natural Resources Conservation Service has four staff members, John George, District Conservationist; Diane Fitzgerald, Soil Conservationist; Darcy Goodson, Soil Conservationist; and Jim Williams, Soil Con. Technician.
We are also very active on Facebook where we share a wide range of information as it pertains to our environment. So please click the link to Facebook and give us a like for real time news!
*If you're interested in seeing projects before and after, workshops, and other events and information please sign up for our quarterly newsletter.